Now Available
Let's Play!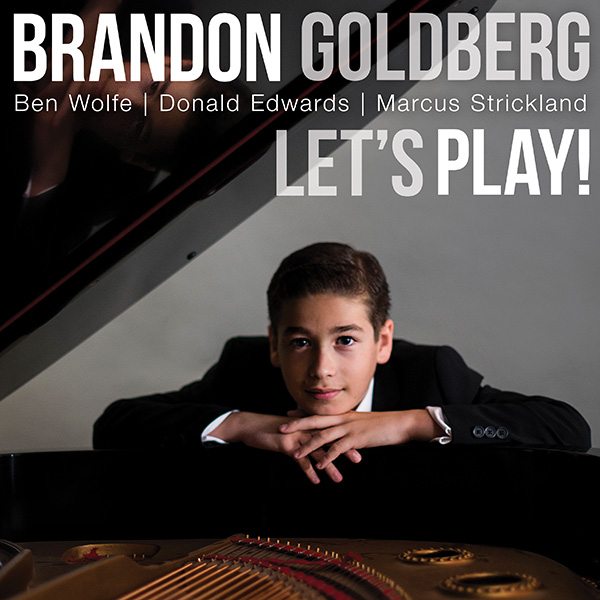 Buy Links
Buy from CD Baby
iTunes
Amazon.com
TRACK LISTING:
FEATURING:
Brandon Goldberg – piano, compositions, arrangements
Ben Wolfe – bass
Donald Edwards – drums
with special guest
Marcus Strickland – tenor saxophone
When Brandon plays the piano people become delighted with his music, not just Jazz appreciators but people, folks. He is a people's champion... Along with all of the cleverness, the sophistication and the tasteful choices, this young man is swinging—swinging hard...Brandon is as affecting as any other new artists appearing on the scene today. I am a fan."
– Monty Alexander Pianist/Composer
Brandon Goldberg, now thirteen years old, began to play piano by ear when he was three years old. He started with classical lessons at age five, but quickly found his passion for jazz music and its history. Brandon just released his debut album, "LET'S PLAY!" with veteran musicians Ben Wolfe on bass, Donald Edwards on drums and special guest Marcus Strickland on tenor saxophone. "LET'S PLAY!" features three originals compositions and six standard and is inspired by pianists Brandon considers his heroes - Thelonious Monk, McCoy Tyner and Herbie Hancock.
Brandon has performed at Dizzy's Club, Blue Note Jazz Club in New York, Litchfield Jazz Festival, Carnegie Hall, Jazz at Lincoln Center with Monty Alexander, Bravo Niagara Festival of the Arts, The Apollo Theater, WDNA Miami Downtown Jazz Festival and with The Miami Symphony Orchestra (MISO). Brandon appeared on the Harry Connick Jr. Show, NBC's Little Big Shots and the Steve Harvey Show.
Brandon was also named Downbeat Magazine's 2019 and 2018 Student Music Awards winner for Jazz Soloist and Original Composition. He's also performed at TEDxYouth@Miami, TEDxBocaRaton and TEDxCoconutGrove and works closely with the Jazz Foundation of America.
---
---
"his jazz IQ is phenomenal and the prodigy seemingly has become prodigious."
-- Downbeat
"He understands the basics and nuances of making jazz – and swings like mad in the great company of his trio mates"
-- Ken Franckling